Rome
General
Weather
Airports
Attractions
Kids Attractions
Events
Restaurants
Shopping
Nightlife
---
Introduction Region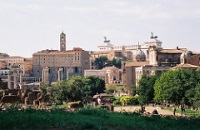 Rome ©Chris Yunker
The Eternal City of Rome, in whose name the Caesars sought to claim the world, opens for the visitor like a living museum, liberally dotted with fascinating ruins, surviving relics and archaeological sites. The centuries peel back with each new vista in this great city of gladiators, lunatic drivers and sumptuous pasta dishes. Vespas, nippy little Fiats and red sports cars speed past trendy sidewalk bistros and nightclubs, revealing the Rome of Fellini's ; while the chillingly stark facades of the Stadio Olimpico complex remind visitors of Mussolini's attempts to reinvent the architecture of the Caesars.
For a taste of the Baroque, visitors need only climb the famous Spanish Steps, walk through the Piazza Navona or toss a coin into the beautiful Trevi Fountain. Renaissance splendour is perhaps best revealed in the Pope's residence, the Vatican Palace, or in Michelangelo's efforts on the roof of the Sistine Chapel. From early Christian Basilicas to the Roman Forum, the Colosseum and the Pantheon, the sequence of history trails back to the height of the Roman Empire.
It may sound like a city of contrasts, but Rome's timeless magic lies in its ability to blend the old with the new. Empires have risen and fallen, old gods have been replaced with new ones, but Rome remains.
Climate Info
Rome enjoys a Mediterranean climate, with mild winters and hot, dry summers. January is the coldest month in Rome, and July and August the warmest. The weather in Rome during summer (June to August) can be uncomfortably hot, with temperatures often exceeding 95°F (35°C) at midday, and locals tend to close up their businesses during August. Winter (December to February) is mild, with the average temperature in December hovering around 55°F (13°C). Heavy snowfall is rare but almost every winter there are light snow flurries in the city. Rain showers are possible any time of year but the drizzle is seldom very disruptive to visitors. The best time to travel to Rome is in the springtime, between March and May, when skies are blue and the weather warm. Autumn is also considered peak tourist season, as the months of September and October are very pleasant.
Convert to Imperial
Convert to Metric
| | | | | | | | | | | | | |
| --- | --- | --- | --- | --- | --- | --- | --- | --- | --- | --- | --- | --- |
| Month | Jan | Feb | Mar | Apr | May | Jun | Jul | Aug | Sep | Oct | Nov | Dec |
| rain (cm) | 81 | 63 | 70 | 56 | 53 | 36 | 17 | 27 | 61 | 118 | 111 | 98 |
| max temp (c) | 13 | 14 | 16 | 19 | 23 | 27 | 30 | 30 | 27 | 23 | 18 | 14 |
| min temp (c) | 3 | 4 | 5 | 7 | 11 | 14 | 16 | 17 | 15 | 11 | 8 | 4 |
| good weather | no | yes | yes | yes | yes | yes | yes | no | yes | yes | yes | no |
Getting Around
The network of buses, trams, metro and trains covers the whole city from 5.30am to around midnight, and night buses take over until about 5am, covering the main routes. The metro only has two lines, but is the easiest and fastest way to get around. The bus service is cheap and reliable, albeit slow due to traffic congestion. Tickets cover all forms of transport and must be pre-purchased and validated at the start of every journey; there are daily tickets valid for unlimited rides, or standard tickets that allow for any bus or metro ride within a 75 minute time frame. Taxis are notoriously expensive and display a list of surcharges. The historic centre of Rome is compact and manageable on foot, and most of it is closed to normal traffic. Driving in Rome is an experience to be avoided.
Rome Leonardo da Vinci International Airport (FCO)
Location
The airport is 19 miles (30km) southwest of central Rome.
Time Difference
GMT +1 (GMT +2 between the last Sunday in March and the Saturday before the last Sunday in October).
Contacts

Telephone: +39 06 65 951 or +39 06 6595 4554.

Transfer terminals

A free shuttle bus operates between the terminals and car parks every 15 minutes.

Getting to city

The train station is across the road from Terminal 3, near car park D. There are two trains to the city. The Leonardo Express travels directly to Roma Termini, the station in the city centre, every half hour from 6.30am to 11.30pm. Buy a ticket at the ticketing counter in the station and then validate it at one of the machines (the ticket will then be valid for an hour and a half). A cheaper option is the slightly slower Regional FL1 train, which runs to major stations (Tiburtina, Tuscolana, Ostiense and Trastevere) every 15 minutes, or every half hour on Sundays and holidays.

Cotral buses leave from Roma Tiburtina railway station and stop at Piazza dei Cinquecento in front of the national museum.

Car Rental

The car rental desks are in the multi-storey car park lots C and B, directly in front of the terminal and connected via passenger walkways. Simply follow the signs from the arrivals area. There are several major companies represented, including Hertz, Avis, Sixt and Budget, as well as a few local operators.

Airpor Taxis

Authorised taxis can usually be found in the arrivals areas.

Airport Facilities

Airport facilities include ATMs and currency exchange, information desks, travel agents, pharmacies, massage parlours, a beauty parlour, a hairdresser, as well as slot machines and laundry facilities. There are business facilities, and there are myriad shopping and dining options.

Car Parking

Parking spaces are available in front of the terminal, and there is a variety of options within the garages and long-term lots. All parking options are connected to the terminals via walkways or shuttle buses.

Website
www.adr.it
Giovan Battista Pastine Airport (CIA)
| | |
| --- | --- |
| Location | The airport is situated nine miles (15km) southeast of Rome. |
| Time Difference | GMT +1 (GMT +2 between the last Sunday in March and the Saturday before the last Sunday in September). |
| Contacts | +39 06 7934 8521 or +39 06 7949 4234. |
| Transfer terminals | Not applicable - Ciampino Airport has only one terminal building, though you will take a shuttle from your plane to the arrivals area. |
| Getting to city | Airport taxis are available and as has been mentioned, taxi fares from Ciampino Airport into the centre of Rome (defined as the area within the Aurelian walls) can be prohibitively expensive. To combat this problem, the airport has set up an official taxi stand, located opposite the arrivals hall. Here, taxis operate on a fixed rate of about €30 per cab, good for a maximum of four passengers and their baggage. The trip should take 25 minutes - but in traffic, it'll be closer to an hour. Buses are another option, and there are many service providers. Travellers are advised to choose to go the public bus route. |
| Car Rental | Car rentals are provided by Avis, Budget, Europcar, National, Sixt and Hertz. The rental offices are well-signed and are located near the airport's entrance. You will require an International Driving Permit (IDP) in order to rent a vehicle, and all cars will feature automatic transmissions. |
| Airpor Taxis | Only use authorised taxis (white cars with meters). The journey to central Rome will take about 40 minutes and the fare is approximately €40, although a surcharge is added on Sundays, public holidays, late at night and for excess baggage. |
| Airport Facilities | A bank (Banco di Roma) is located in the departures area, and numerous ATMs and bureaux de change are scattered throughout the terminal building. A lost and found office is also available, as is a VIP lounge with a snackbar and private boarding/disembarkation gates. Other facilities include nursery and medical facilities; a passenger assistance and customer service desk; tour operators and travel agencies; shops and cafes; and full access and comprehensive facilities for disabled passengers (the airport is renowned for its convenience for disabled passengers). |
| Car Parking | Both short- and long-term parking is available at Ciampino Airport. The first 15 minutes are free, thereafter various charges are levied. |
| Depature Tax | Departure tax is included in the price of your ticket. |
| Website | www.adr.it |
Trastevere




Separated from central Rome by the Tiber River, Trastevere is a picturesque medieval neighbourhood characterised by a quirky Bohemian atmosphere. Its narrow cobblestone streets are lined with overhanging flower boxes and washing lines and are home to numerous cafes, boutiques, pubs and r
▼ see more




Tratevere ©Verity Cridland
---
Capitoline Hill




Capitoline Hill was the original capital of Ancient Rome and continues to serve as the seat of the city's government. It is the smallest, but also the most famous, of the Seven Hills of Rome, and once housed the Senate. The main feature of the area is Michelangelo's Piazza del Campidogli
▼ see more




Sculpture at Capitoline Hill ©Erin Silversmith
---
Roman Forum (Foro Romano)




The site of Ancient Rome's commercial, political and religious centre rests in the valley between the Capitoline and Palatine hills. The Forum's main thoroughfare, Via Sacra, slices through the old market square and former civic centre. To make sense of the ruins and relics of the old Re
▼ see more




The Roman Forum ©Lisa Cancade Hackett
---
The Colosseum




Known to be one of the most impressive buildings of the Roman Empire, the Colosseum was the largest structure of its era. Emperor Vespasian, founder of the Flavian Dynasty, started construction of the Colosseum in 72 AD and it was completed in 80 AD. This enduring symbol of ancient Rome,
▼ see more




Colosseum Exterior ©Paul Zangaro
---
Pantheon




The stately Pantheon is one of the world's most inspiring architectural designs; almost two thousand years after it was built, the Pantheon's dome is still the world's largest unreinforced concrete dome. Built as a temple to the Roman gods by Hadrian in 120 AD, its perfectly proportioned
▼ see more




The Pantheon ©Nichole Brown
---
The Spanish Steps and Piazza di Spagna




The graceful Spanish Steps, built in 1725, elegantly curve their way from the Piazza di Spagna to the Church of Santa Trinit dei Monti, a pastel-tinted neoclassical building. The shopper's paradise of Via Condotti leads back from the Spanish steps to Via del Corso, and during spring the
▼ see more




Spanish Steps ©David McSpadden
---
Trevi Fountain (Fontana di Trevi)




The tiny Piazza di Trevi has been immortalised through this fountain, built for Pope Clement XII. Arguably the most famous and most beautiful fountain in all of Rome, and the largest Baroque fountain in the city, the statues adorning this watery display represent Abundance, Agrippa, Salu
▼ see more




Fontana di Trevi ©Gabriel Rinaldi
---
St Peters Basilica (Basilica di San Pietro)




The Basilica lies above the reputed site of St. Peter's tomb. It has an overwhelming interior, containing notable sculptures including Michelangelo's Pieta, which is protected by bullet-proof glass since the damaging attack on it in 1972. In the central aisle stands Arnolfo da Cambio's b
▼ see more




St Peter's Basilica ©Darren & Brad
---
Vatican City and the Sistine Chapel




The Vatican City is a remarkable entity in that it is an independent state administered by the Roman Catholic Church, and one of the world's richest countries. The population of this enclave doubles during the working week as residents from Rome cross into the Vatican City to work within
▼ see more




Vatican City ©Diego Cambiaso
---
Basilica di San Giovanni




The Basilica of St John Lateran was built in the 4th century by Constantine the Great and was the first church built in Rome. It is the cathedral of the Diocese of Rome, and as such ranks above all other Roman Catholic churches, even St Peter's Basilica in the Vatican. It is the official
▼ see more




Basilica of St John Lateran ©Juan Salmoral
---
Villa Doria Pamphili Park




Rome is a busy, crowded city and it can be difficult to find some peace and quiet, or open spaces for exercise. The best place to go to get some fresh air and a break from traditional sightseeing is the Villa Doria Pamphili, which is the largest landscaped public park in Rome and a wonde
▼ see more




Villa Doria Pamphili ©Alinti
---
Nightlife
The nightlife in Rome is laid-back, in true Italian style. People like to sit at cafés or restaurants taking their time with lots of food, wine and coffee. Campo dei Fiori, the Piazza Navona area and Trastevere are some of the best places for bars and cafés, while the Testaccio and Ostiense districts are better for nightclubs. Roma C'è and TrovaRoma (free with La Repubblica newspaper) have information on nightlife in Rome.
There are many wine bars and cafés near Campo de' Fiori, Piazza Navona and Via della Pace. Cafés in Trastevere attract visitors to see Piazza di Santa Maria's fountain and 12th-century church lit up at night, as well as occasional guitar performances.
There are always spectacular nightclubs available for the real party animals in Rome, but some of them do close during August. When the clubs close for summer, there are numerous outdoor venues around town and near Ostia; outdoor festivities on Via di Monte Testaccio, in Testaccio, take centre stage and include food stalls and markets.
The Teatro dell'Opera is home to the Rome Opera Ballet and opera is performed at the Baths of Caracalla's open-air ruins in July and August. Rock bands often perform at Stadio Flaminio and the Palazzo dello Sport.
La Rosetta
Possibly the best seafood restaurant in Rome, the cuisine at La Rosetta is world-class. A selection of marinated seafood appetizers, such as squid with ginger and French beans, is the best way to appreciate the flavours, followed by one of the superb pasta dishes dressed with fish or seafood. The menu includes almost every type of Mediterranean fish, grilled or roasted to perfection, and desserts such as the ricotta cheesecake with honey are worth saving space for. Reservations essential. Open for lunch and dinner Monday to Saturday.
Food Type:
Seafood
Style:
Price:
5
Address:
Via della Rosetta 8 (Piazza Navona)
Website
www.larosetta.com
---
La Pergola
This sophisticated rooftop restaurant boasts a spectacular view of the city below, and has an elegant setting with candlelit tables and impeccable service. Many Roman food critics claim it is the best restaurant in the city, which is attested to by a list of regulars that includes Prince Rainier of Monaco, Bruce Springsteen and Glen Close. Food is the very best of Mediterranean haute cuisine and each dish is a work of art in presentation and taste. A sundowner at the chic cocktail bar is a fine way to start the evening. Reservations essential. Closed Sunday and Monday. Dinner only.
Food Type:
Mediterranean
Style:
Price:
5
Address:
Hilton Hotel, Via Cadlolo 101, San Pietro
Website
www.romecavalieri.com/lapergola.php
---
Ai Tre Scalini
Small, unpretentious and serving top-quality Roman cuisine, Ai Tre Scalini is one of the nicest restaurants in the area close to the Colosseum. The small menu is a gourmet experience, from the cheeses and salamis to porchetta, complemented by the wide variety of wines on offer. Reservations required. Closed Mondays. Open from 6pm.
Food Type:
Italian
Style:
Price:
3
Address:
ViaPanisperna
Website
---
Arancia Blu
Arancia Blu offers Rome's best vegetarian fare in a trendy, friendly atmosphere. Individual dietary needs are catered for as staff assist in redesigning menu suggestions to suit everybody's tastes. The dishes are inspired by country Italian cuisines and include things like potato and mint ravioli, or eggplant parmigiana in a pastry crust. There is an excellent dessert menu and extensive wine list. Open for dinner daily, the tea room and bars open from 5pm to 7pm, dinner starts at 8pm. Also open for lunch on weekends. Reservations recommended. Credit cards are not accepted.
Food Type:
Vegetarian
Style:
Price:
2
Address:
Via Prenestina
Website
www.ristorantearanciabluroma.com
---
ATP Masters Series: Rome
Many tennis fans consider the Rome Masters to be the second most prestigious clay court tennis tournament in the world, after the French Open. The ATP Masters Series consists of nine tennis tournaments that are held annually in Europe and North America and sees the world's top tennis players competing for the title of world number one. The Rome Masters has officially been called the Internazionali BNL d'Italia since 2002, but the old name is still more commonly used among fans. The Italian tennis championship was first held in 1930 in Milan. Rafael Nadal is the most successful player in the Rome Masters to date. Djokovic declared the surface 'paradise', but that was before his recent defeat by Nadal. The Rome Masters is a fun tournament to attend and the crowds are passionate and less polite and formal than you might find at tournaments like Wimbledon.


Date 2017-05-15 to 2017-05-21 Website www.atpworldtour.com/en


Rafael Nadal ©Yann Caradec
---
RomaEuropa Festival
RomaEuropa is Rome's annual international cultural event, that features theatre, dance and music concerts and performances. Although the focus is on Classical music, the festival is famous for the diversity of its various performers and there really should be something to appeal to everyone in the extensive programme. The event has been held for many years and has increased in size and prestige so that now it is considered one of the best art festivals in the world. Thousands of international visitors flock to Rome to enjoy the world-class productions, and many famous international artists and performers are featured. The attractions range from formal, glamorous events with expensive price tags, to free performance art in the streets and bars, and Rome comes alive with music, dance and art exhibitions of all kinds. If you are interested in the arts it is wonderful to plan your visit to coincide with RomaEuropa; the city can get crowded during this time but the festive atmosphere is a bonus. Check the website listed below for information on what is showing and when.


Date 2017-09-01 to 2017-11-30 Website www.romaeuropa.net


Classical Music ©Alex Bertolini
---
Birth of Rome Celebrations
Every year, the birth of Rome is celebrated on 21 April, with numerous events taking place at notable venues around the city, including the Roman Forum and Campidoglio. If you're lucky enough to be in Rome over this period you will have access to all sorts of activities and performances, most of which are open to the public and free. Many of the Roman buildings in the city are illuminated at night, and they come alive with reenactments of scenes from Roman history, concerts, fireworks, parades, gladiator shows (historical accuracy is thankfully compromised so that nobody dies) and traditional banquets. Another huge bonus for tourists is that all of the museums and parks in Rome are open to the public on this day every year, so that people can celebrate the great city's cultural heritage. Of course, the lack of admission charges does mean that attractions get very crowded and accommodation can be difficult to find on short notice, so it is best to book your trip well in advance. Partaking in Rome's birthday celebrations is fun and festive and the Italians tend to be extremely proud of their heritage and eager to share it.


Date 2017-04-21 to 2017-04-21 Website


Romulus and Remus ©david__jones
---
Rome Marathon
This annual event takes runners on a scenic tour of Rome, passing some of the most famous monuments in the city, like the Colosseum and St Peter's Basilica. Although it may be a tiring way to tour the city, it is an exhilarating race, extremely well-supported and with a festive atmosphere. The Marathon Village sets up about a week in advance with concerts, stalls and shows for all to enjoy, as well as all the practical race necessities, making it an extremely jolly marathon. In fact, during the races the Rome Marathon Music Festival turns the city into a stage with more than 50 music acts including international stars, rock bands, DJs, folk groups, and local talent performing along the route to encourage the runners and entertain the crowds of spectators. Although the full marathon is a serious competitive event which attracts talented runners from all over the world, there is also a 5km Fun Run, or RomaFun, which is non-competitive and attracts about 80,000 people annually. Participants in this event are free to do as they please and some bring along their dogs, or rollerblades. For details on registration and participation see the official website below.


Date 2017-04-02 to 2017-04-02 Website www.maratonadiroma.it


Marathon Runners ©James Diggans
---
Travel Guide powered by www.wordtravels.com, copyright © Globe Media Ltd. All rights reserved. By its very nature much of the information in this guide is subject to change at short notice and travellers are urged to verify information on which they're relying with the relevant authorities. Globe Media and UNIGLOBE Travel does not accept any responsibility for any loss or inconvenience to any person as a result of information contained above.